What Are Amazing Rare Pokémon Cards? 
Amazing rare Pokémon cards were first introduced with the Vivid Voltage expansion released in November 2020. In Japan, they were first included in the Legendary Heartbeat expansion, released in July 2020. They feature legendary Pokémon with a unique holo pattern and card design. While the Pokémon stays in frame, the rainbow background goes beyond, easily standing out from a regular card.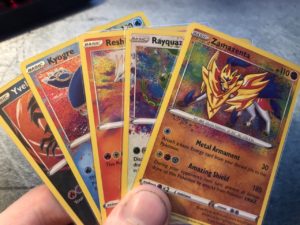 The holo is a fine glitter-like pattern. This results in a dense sparkle that pairs well with the spectrum of colors. Of the 9 cards, there are 3 background designs: the spiral, explosion, and splatter. They all resemble paint-like designs. 
In addition to the unique background and holo pattern, Amazing cards also have texture added in some areas. The background is textured, including the part that exceeds the frame, but some other elements do as well, such as the energy symbols.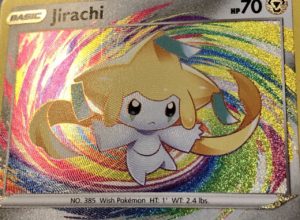 How Many Amazing Rares Are There?
Only 9 Amazing cards were produced, 6 in the Vivid Voltage expansion, and the last 3 in the Shining Fates expansion.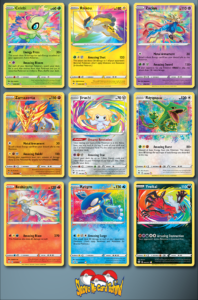 No more were produced after the 3 were added to Shining Fates. More than 2 years have passed since then, and we have now begun the Pokémon Violet & Scarlet era of the TCG. Most members of the community agree that we are likely not to see any more Amazing rare cards moving forward. 
How Rare Are Amazing Rares?
These cards are pretty easy to pull from Vivid Voltage packs, since there are 6, and slightly less plentiful in Shining Fates. But overall, they have high pull rates.
For Vivid Voltage, the chance of pulling an Aamazing rare is about 5-6% (based on multiple samples sourced from the community).
For Shining Fates, the chance of pulling an Amazing rare is actually also about 5-6% (again, based on multiple community-sourced samples). 
How To Tell If Your Card Is An Amazing Rare
You should know right away if your card is an Amazing rare since they have such a unique look to them. However, you can double-check by looking at the symbol on the bottom left corner of the card.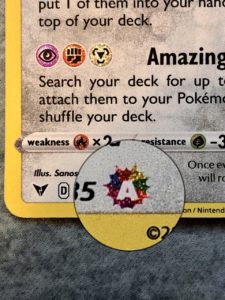 Check for this Amazing rare symbol:
Amazing Rare Price Guide
Here's the best part about Amazing cards: They're cheap. 
Each one costs between $1 and $5. Since they're pretty easy to pull, there are a lot of them on the secondary market. You can usually find the full set of 9 for as low as $30 on eBay.
Even the graded copies are affordable. For example, a PSA 10 Amazing rare Celebi can be bought for around $30-$40 on eBay. 
Should You Invest In Amazing Rares?
Historically, small niche sets like these do well in the long run. In the past, we've seen small collections like the prism cards, which have increased in value.
Should you invest though? Well, why not? These cards really are beautiful, and you might have a couple already. Considering the price, it's not a big risk. 
Another option is to purchase the cards already graded. Grading a card increases its value, and solidifies it as an asset. Since the card is graded, it is authenticated and protected from any damage. 
Amazing cards have pretty much leveled out when we look at the market. Prices started high but have come all the way down to a few dollars, probably due to Vivid Voltage being printed so heavily. However, we're no longer seeing Vivid Voltage packs in stores, so the cards will now begin their aging process. When we look at this graph from pokedata.io, we can see the decline in price. Now is probably a good time to buy these cards. 

Final Thoughts
If you don't own a single Amazing rare, I would definitely recommend picking one up. They are beautiful cards and they deserve to be admired. 
At such a deal, why not grab all 9?