Charizard is nearly as ubiquitous as Pikachu. There are very few who know Pokémon and don't know Charizard. Part of this is due to the insane exposure and outreach of the legendary Charizard Pokémon card. In this list, we look at the most expensive Charizard cards available today.
10. Charizard δ
(PSA10) $8,000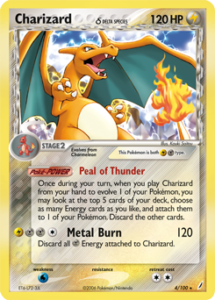 Possibly one of the most unique Charizards to start off the list, this guy is both electric and metal type. Delta Species (δ) Pokémon are not their typical type, many are mixed with metal type, and some are a different type altogether (check number 5 on this list!). To me, this card has always stood out as a favorite from an aesthetic perspective. The yellow/silver coloring of the card is such a nice change from the basic red that Charizards usually have. 
This card was released in August 2006 in the EX Crystal Guardians expansion, and this Charizard is the chase card. You can buy this card raw and near mint for as low as $275, but a PSA 10 will cost you around $8,000.
9. Shining Charizard (PSA10) $11,000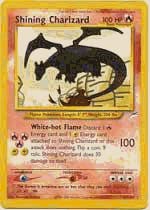 The Shining cards have gone down in history as some of the most valuable Pokémon merchandise to date, and the Charizard is no exception. This was the first time in the TCG that the holo pattern had shifted from the background to the Pokémon itself. Moving the card from side to side will reveal a shine over Charizard, revealing hidden details. 
This Charizard was released in February 2002, in the Neo Destiny expansion. In raw form, you can find copies going for around $1,000, but if you're on a tight budget, heavily played copies go for as low as $400.
8. Crystal Charizard (PSA10) $11,600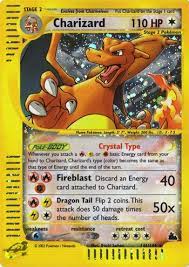 Ah yes, Crystal Pokémon. These cards were first introduced in the Aquapolis expansion, back in January 2003. However, this particular Charizard came from the following expansion, Skyridge, released in May 2003. This was the final expansion to be released by Wizards of the Coast.
Crystal Pokémon have the ability to become different types, depending on the energy card attached that turn. This makes for an exciting game and an amazing collector's item. This card is also available as a box topper, although they are difficult to find. these days. If yours is graded at a PSA 10, you'll be happy to hear that it's worth over $11,000. However, a raw copy these days will cost about $700 in heavily played condition.
7. Base Set Charizard (PSA10) $11,700
Here we are, the OG Charizard. With the exception of 5 and 4, the remaining cards on this list are all iterations of the Base Set Charizard. 
This is the unlimited print of the card, which means Wizards printed it until the set had run its course (February 2000). This is the one that you and I probably kept from childhood, as there were so many printed. Fortunately, they aren't too expensive, and you can pick up a pretty decent copy for as low as a couple of hundred bucks.  But if you happen to come across a mint copy, send it in to be graded because a PSA 10 is fetching over $10k!
6. Test Print Charizard (CGC5.5) $15,600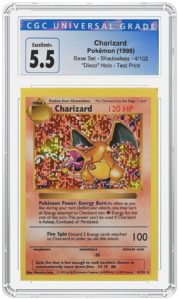 Here's the oddest entry on the list. This is a test print Charizard. These came about during some test runs at the printing facilities, when Wizards was trying out different holo patterns. You might think that this should be number 1 on the list, but there are a few caveats that actually make this card less desirable to some. 
Notice the square cut corners of the card. These cards never went through the full manufacturing process, and thus were never cut from the sheet. This card is non-factory cut or NFC for short. That means that somewhere in time, someone cut the sheet themselves, probably to sell the cards individually. This actually harms the item for many collectors. So it is possible that this is reflected in the price.
Another factor is the listing. The price here of $15,600 was the last known public sale of one of these test print Charizards. The listing was on eBay and was actually local pickup only. The seller was not willing to ship the card. This is the second reason why the sale price is as low as it is. 
Whatever the value of this card, it's hard to argue its cool factor. 
5. Charizard Star (PSA 10) $18,000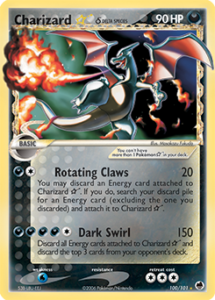 Here's a throwback to delta species cards. Instead of the electric/metal type like our first entry, this Charizard is just dark type. This one was released in EX Holon Phantoms in November 2006.
Not only is this card a unique delta species but it is also a star card. The star cards represent shiny Pokémon once again, not unlike the Shining Charizard. These cards are extremely valuable and sought-after by all collectors. That's why this card goes for almost $20k at a PSA 10.
4. Topsun Charizard (PSA10) $25,000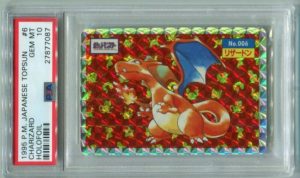 Topsun cards are a great little niche within Pokémon card collecting. These cards aren't part of the TCG, and actually came in packs of 2, with a stick of gum.
We have a full article on Topsun cards here, if you want to learn more. 
This Charizard is actually quite special. These Topsun prism cards are stickers, and for some reason, that just adds such a cool factor to them. This particular Charizard is the Ken Sugimori artwork that was used for the video games, back in the 90s. You can find this card raw for a few hundred bucks, but a PSA 10 recently sold for $25,000, and believe it or not, that is a new low within recent years.
3. Japanese Base Set No rarity Charizard (PSA10) $30,000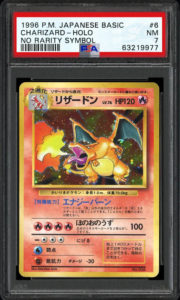 While our Base Set was released in 1999 here in North America, the original Japanese version was released in 1996. While the Japanese set never had a "shadowless" version of cards, they do have the "no rarity symbol" cards.
This was an error among the first printed cards, and since it was promptly corrected, not many are available today. Many consider this to be much like the Japanese version of shadowless Charizard, in a way.  
These cards aren't cheap, and a PSA 7 (much like the image above) is currently worth about $4,000. But that's nothing compared to a PSA 10, selling for a whopping $30,000.
2. Shadowless Charizard (PSA10) $48,000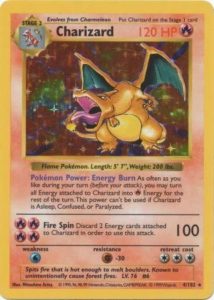 Speaking of shadowless Charizard, here we are. The first run of Pokémon cards in North America was not received well by their target audience and was given a refreshed look. This new look included many upgrades like bold text, more vibrant colors, and of course the shadow. 
The cards before the refresh were dubbed the shadowless cards, and history was born. These cards are highly sought-after simply due to their amazingly rare nature. You can get a raw version in damaged condition for around $350, or a heavily played one for $750. But a near mint is going to cost thousands, even ungraded.
1. 1st Edition Charizard (PSA10) $270,600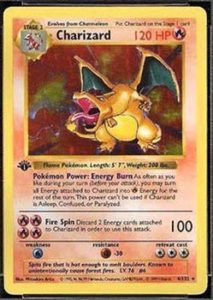 The 1st edition Charizard. Need I say more? This card is known by many as the most expensive Charizard card to ever exist. This is the rarest form of the Base Set Charizard available and obviously sells for a fortune. This card has so much excitement and history behind it that nailing down an exact price is actually kind of difficult. For example, some have sold for close to $500,000 at the height of Pokémania. 
But for now, the most recent sale was $270,000 which (as crazy as this sounds!!!) is a pretty good deal. This card is quite possibly the most reliable investment in the world of Pokémon cards, as its value will only increase over time. Recently a damaged copy of this card even sold for over $2,000.